I thought for a while what I should make my first post about. Should it be my favorite album ever? The aforementioned Frank Zappa album? A recent album? An album I just bought? But in the end, I realized that I should write about
the first album I ever bought with my own money.
And by this point it should be obvious that it was
Daft Punk's "Discovery"
album released in 2001.
I first discovered
Daft Punk
when I was around 12 or 13 years old. Thanks to my friend who introduced me to anime, a the
video for One More Time
(what I learned later was part of the
Interstella 5555
movie made from the Discovery album) would play fairly often on the Cartoon Network television channel. Of course, it also helped that the song was featured in a Victoria's Secret commercial at the time too.
Underwear models aside, the music itself was pretty awesome as well. It was catchy, it was upbeat, it was fun, it was just
cool, man
. Seeing as I was a teenager growing up in the suburbs of Vermont, I didn't even know what a rave was at this point, and disco was just an old kind of music that was supposed to be bad. Although, the Daft Punk duo have stated that
Discovery
is an homage to the music of their childhood in the 70s and 80s, to my 13-year-old self living in a time before everyone and their mother was using auto-tune, this
was
the music of the 21st Century.
Receiving a gift card to FYE for my Bar Mitzvah, I knew exactly what I was going to spend it on. Of course, buying an album with only hearing one track is not usually a good idea, but hey, I had Cartoon Network
and
Victoria's Secret on my side! Needless to say, I did not regret the purchase one bit.
Discovery
was played on an old portable CD player my dad handed down to me on almost every car trip my family had. When we went to Virginia, a 12 hour drive, it would be played multiple times. To this day, it remains
one of my favorite albums ever
.
Starting off with the previously mentioned
One More Time
, those electronic horns in the intro signaled the start of something big. By the time the bass beat comes in, if your head isn't bopping to the beat, I'm sorry, but you just have no groove. One More Time ends and starts the second track,
Aerodynamic
, seamlessly with a gong. The completely-instrumental track continues to build on itself throughout the song, it starts off with a funky enough beat, before going into some raw guitar shredding (which has remained as my alarm on my cell phone for quite a while now). From there, it combines the first beat with the shredding until it completely changes to a much quieter 80s synth riff which picks up it's own bass beat as well. Aerodynamic ends with a gong and wind sound effect into
Digital Love,
a 21st century disco song that borrows a riff from a George Duke song, and a crazy guitar solo enhanced with music sequencers.
The fourth track of the album,
Harder, Better, Faster, Stronger,
is probably Daft Punk's most famous song. Gaining fame in recent years due to
YouTube
Videos
and this guy: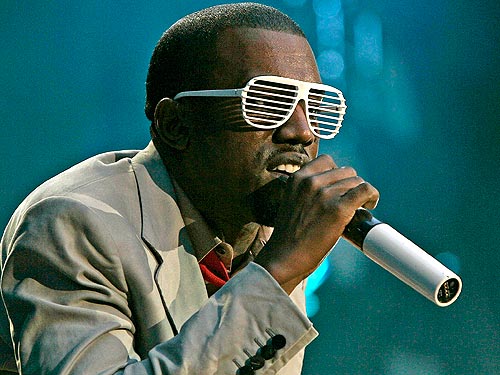 Kanye's version
would ultimately become more well known than the original Daft Punk version. It still surprises me to this day that most people have no idea that Daft Punk originally wrote the song, seven years prior. Also, when I was in 8th grade, in our rollerskating unit in gym class, the teachers would let us bring in CDs to play while we skated, provided that they were appropriate enough for school. When I tried to bring in my Daft Punk CDs, the teacher nearly refused. She compromised and said I could pick four tracks. I told her to just play from Harder, Better, Faster, Stronger down. She said no, and started from the 5th track instead.
While I don't know this for a fact, I'm
sure
she played an edited version of Kanye's Stronger when it came out. I mean, if she didn't have CDs, she'd just play Top 40 radio, and that song was all over it at the time. I was way before my time, man.
And to set the record straight, I'd take Daft Punk's version of Kanye's any day of the week.
Anyway, after H,B,F,S came
Crescendolls.
I always liked this track, despite being a tad repetitive. Though, I always wondered what the people were saying. The liner notes list it as an instrumental, but they're clearly saying something between the "HEEEEEEEYs" and the "HOOOOOOs" and the "LOOK OUT!" But I guess the world will never know. Seeing as the first five tracks make up a pretty energetic (nearly) 20 minutes. You get a minute-forty-four to relax with the slower, calmer,
Night Vision
. I always thought that Night Vision served as a good break in the album. And you'll need it, because unfortunately, the worst two songs on the albums follow it. While
Superheroes
is repetitive but still okay, I absolutely cannot stand
High Life
. I would always skip past it. Still do in fact. It's just loud and repetitive and always made my head hurt. At least in Interstella 5555, you can watch something to take your mind off the annoyance of the music, but when listening to it on headphones... ouch.
Thankfully, we're saved by the slow groove
Something About Us.
While the subject matter of the song was lost on my 13-year-old ears, I still appreciated the pure funk in the song. The funk continues on in the instrumental
Voyager
and

Veridis Quo.

We jump from the 70s to the 80s into

Short Circuit

and finally return to the retro-modern-electro-pop featured at the beginning with

Face To Face

.

Finally, we end with the 10 minute,

Too Long

. Lots of people seem to not like Too Long for, well, being too long. I completely disagree. While the lyrics are a tad repetitive, the music isn't at all. The song does a great job of slowly building up on itself. The song starts off with simply snapping and the vocals. As the song continues, it brings in other things to add to this. First a keyboard and a drum beat. Then a bass riff and another drum before stripping it completely and adding a whole new beat and riff, full of energy. While it uses the same beat until the end, it builds on the energy, so by the end you're ending with the same amount of energy you started with from One More Time. Sure, it's possible that Daft Punk could have done the same exact thing in half the time. But this is the finale of

Discovery

. The entire album is a Modern-Disco-Opera that has a definite flow. Too Long is the perfect epic finish that it deserves.

In the end,

Discovery

is a 61-minute musical journey that Daft Punk does an amazing job of taking you on. Even though I still hate High Life, the rest of the album is amazing enough to make me forget about it. In my opinion,

Discovery

is one of the best albums of this decade, for sure.

If you've never listened to this awesome album, buy it, download it, stream it, do whatever. Just listen to it. If you have listened to it, I definitely recommend watching Interstella 5555. It definitely adds some awesome visuals to the songs, and tells a pretty good story along with it. Think

Daft Punk Presents: Fantasia

. Also, Daft Punk fans should check out the Alive 2007 album. This live album mixes all three of the Daft Punk studio albums with new stuff to make even more amazing music.